Wednesday, January 31, 2007
Invaluable Advice from Officer Trudy Wiegel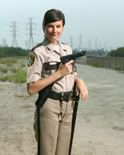 Addressing a school assembly on safety...
Now, girls, I don't care if you wear mini-skirts. I don't care if you wear Dungarees. I don't care if you're good at basketball, I don't care if you're fun to be around. But you can rest assured that every one of you, at some point, is going to be raped. And your doctor will give you some good news. Gold pot at the end of the rainbow, you're pregnant. And you're having triplets.
Trudy's Myspace
.
From her blog:
Monday, December 18, 2006
A very dark day
Well, I finally got that potato chip from ebay that I've been bidding on and it's amazing! It REALLY DOES look like you can see Oprah's face in it! There are two little dark spots that look just like her eyes and a rippled part on top that looks like her hair before she got a weave and lost all that weight. The bad news is that I sucked it up in the vaccuum this morning when I was cleaning up some cat vomit. Eleven goddam dollars down the drain. Not to mention the sentimental value. A little piece of my heart got sucked up into that vaccuum this morning:(
More Trudy
.