Tuesday, October 30, 2007
All the Porn that's Fit to Print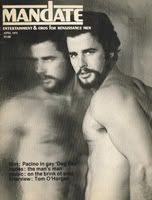 Hello, I need a publisher's contact information. For a magazine.
No problem. What is the name of the magazine?
It's a…uh…an adult magazine. Is that O.K.?
"Go ahead," I replied using the weary, flat affect of one who's heard it all, a tone I've been really cultivating lately.
Mandate. One word, I think.
I turned to Ulrich's, the venerable, authoritative reference source of bibliographic and publisher information for periodicals. I wasn't sure if Ulrich's indexed smut, but I was quite curious to find out, since I really wasn't eager to see what a Google search would turn up.
"I found two, one published by the United Church of Canada and the other by Mandate Publications LTD. I have a hunch it's the latter."
I had to say that I like the authoritative quality of that title, and the humorous pun for which that genre of magazine is often known. I saw that Ulrich's categorized
Mandate
under the subject heading "Men's Interest." I wondered what other publications had that subject heading. The journals ranged from fashion and lifestyle, like Vogue Homme and Cigar Aficiando, to erotica to the hardcore, to the deviant - some really sick shit. Oh, I had my fun browsing the list of titles the rest of the afternoon.
Skin Mag titles:
The Straightforward:
Big Butt, Boobs, Mega Boobs, Big & Black
The colloquial:
Juggs
– I like how the double g's give the visual of two pendulous knockers
Fetish:
Dominantly Yours, Foot Worship, Women in Power
Decade specific:
40 and Over!
Once you mature out of that, there's
50 and Over!
Act specific:
Pussy Grazer
, which I think sounds lackadaisical, for the dilettante, not the true enthusiast. If I were the publisher I would definitely choose a title that conveyed something more forceful, like
Carpet Ripper
.
Illegal:
Family Heat
- just as the name implies - gross
Bizarre:
Girls and Corpses
– nymphos posed next to moldering corpses. Necrophilia with a sense of humor. Fangoria meets Oui. Marriage of Thanatos and Eros.
Disturbingly Self Explanatory:
Zoo.
The only other language edition that exists is in, of all things, Afrikaanse. What the hell goes on in the veldt?
Uncomfortable porn memory:
A former neighbor of mine was a strange loner who lived in a house with his shut in mother. He dressed just like his idol, latter day Elvis, complete with side burns, white jumpsuit, and large, gold metal sunglasses. One time we met on the sidewalk and I stopped to say hello. My dog Sid was a rambunctious puppy then and wrapped his leash around his ankles. It startled my neighbor and caused him to drop his grocery bag. Around 10 hardcore skin mags skidded out onto the sidewalk. We both looked down, our eyes locking with the dead eyed come hither stares of the cover girls. Boy, that was awkward. I apologized, extricated Sid and left.
Saturday, October 20, 2007
The President of the Animal Kingdom
Monday, October 15, 2007
Caturday
Wednesday, October 10, 2007
Daemon Dog