Wednesday, September 06, 2006
Bats have an impressive land speed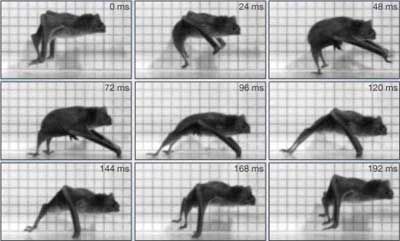 Go, bat, go! I've made no secret of
my fascination
with
parasitism
, but this interest also extends to other more benign forms of cooperation and symbiosis in the animal kingdom. Vampire bats live off the blood of other animals, but they are one of the few animals to practice what is known as
reciprocal altruism.
A vampire bat who has had a fruitful evening will regurgitate blood for less successful members of its colony. Vampire bats will starve to death in a matter of only a few days if they don't feed, and every creature has a run of bad luck eventually, so this sort of sharing policy is good insurance for all. Cheaters are noted and evicted from the group.
A humorous image: a vampire bat will flutter down about 10 feet behind its victim (usually a cow or a horse) and then sneak up in this hunched tip toed waddle until it can latch on to the flesh behind its victim's tail. Bats can also run, though. Using the end of their wings like crutches, they can brachiate to great speeds. Scientists put some on a treadmill to measure their speed and were amazed at how
fast the little devils could move
.
At
Rancho Transylvania
, a farm/bat research facility in Mexico, a scientist is studying rare and endangered bats that feed exclusively on chickens. The bat will sneak up on a sleeping chicken, bite its toes, and lap up small amount of blood. Often the bats will make a cheeping sound like that of a chick, a sound that seems to soothe and quiet the chickens, as if to say, "Don't mind us! Nobody but us (baby) chickens here!"