Thursday, March 30, 2006
Doggerel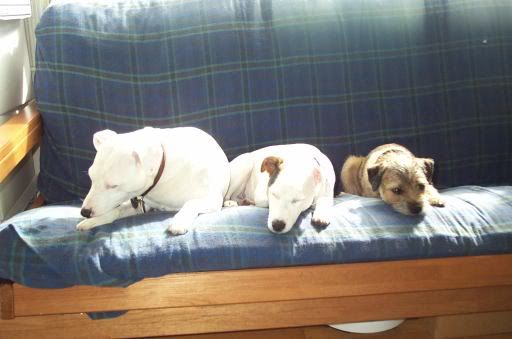 Songs that we sing to Billy Jack, Spoon and Sid.
To the tune of the
Wonder Woman
theme:
Wonder Puppies! Wonder Puppies!
In your furry tights
Fighting for your rights
And for the red, white and bluuuue
To the tune of the old Wrangler jingle:
Here comes Billy Jack,
He's one tough customer
He knows what he likes when he seeeeees it
To the tune of
Afternoon Delight
by the Starland Vocal Band
Lots a barking and a screaming
at other dogs on the street
Going to go look in my foodbowl for something nice to eat
Going to find some sunlight to nap 'cause I'm beat
Life here on XXXX Street is pretty su-weet

Sky Puppies in Flight!
Mind your hand she bites!
Whooooaaaaah sky puppies in flight
ACDC's
She Shook me all Night Long
(for Sid, specifically, who's licking his forearms in the picture, and his bete noire, the
bumble bee).

He was a fuzzy machine
He kept his forearms clean
He was the whitest damn puppy I've ever seen
He loved spicy food
Humping other dog dudes
Hated blimps and cats and Hoover vacuums

But bumble bees made him scared
Made him snap in the air
Made him shake like a Whippet and bite and stare

Yeah bees – made him shake all night long
Gangsta Gangsta by NWA (created when Spoon was attacking other female terriers):
'Cause I'm the Spoon, I don't slang or bang
I just smoke motherfucking bitches like it ain't no thang
Also for Sid, to the tune of
We're the Kids in America
We're the Sids in America, whoa
We're the Sids in America, whoa
Everybody bite the music as it goes round
'round 'round 'round 'round
To the tune of Michael Jackson's Thriller:
Because it's dinner, (ee-hee) diiiiiner time
the time of night when puppies scream and bark and maybe start to fight
For their cousin Hercules, the pug, to the tune of the Sopranos theme:
Woke up this morning and I bought myself a pug
A little REO Speedwagon:
Heard it from a pug, who heard it from a whippet who
Heard it from a Bijon you've been messing the rug
Comments:
Just tonight I thought of this for my dear Goldie dog, to the tune of "Cat Scratch Fever;"
Cat crap eater, da na na
Cat crap eater, da na na na
Or how 'bout this for Carmencita, Infanta Gloriosa?

Well I'm riding in da car now
da car now, da car now
An' I bark an I roar as the world goes by

But don't open up dat door now
Dat door now, dat door now
Cuz then you may just see that
I'm really quite shy.

Well I'm barkin' out da window
Barking out da window,
But don't let me out,
Cuz I'll curl up in a ball

Oh I do like dat window
Dat window, dat window
Cuz it keeps da world out,
Makes me feel big and tall.


I am but dog. What do meter and syntax have to do wif me? I am but a black dog, so I can write anyfing I want an' I don' care you can't read it. Arf. Big doggie kudos to Spoon & Co.
Post a Comment