Thursday, December 15, 2005
Loud Pipes Save Lives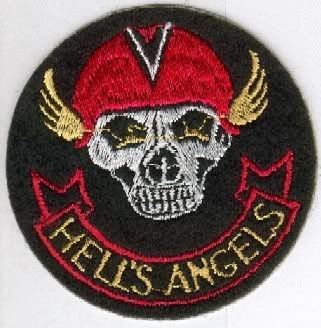 Years ago when I worked at the sheriff's office I spent a few days entering information about the local bike gang into our new database, DrugTrak. Much to my delight, many of these files had photographs taken by undercover agents at various biker gatherings. The bikers all looked straight out of central casting, complete with nicknames and alisases like "Tarantula" and "Mad Dog." A couple of them were even missing eyes, gouged out during fights, I presume, and meth rotted teeth. I certainly wouldn't have hired this sorry looking bunch
to do security at my concert
. I thought there couldn't possibly be any more of an ugly bunch of lowlifes until the department busted up a dog fighting ring a few months later - those mutants looked straight out of
The Hills Have Eyes
. There wasn't a lot of biker gang activity in the county, so the project didn't last long. The Feds did send us a fabulous poster that had photographs of all the jackets of various gangs emblazoned with their mottoes. I coveted that poster dearly but my sergeant, a weekend biker, pulled rank and claimed it instead.
Here are some of the mottoes I remember from the poster:
Hell' s Angels:
Three people will keep a secret if two are dead.
Outlaws:
God forgives, Outlaws don't.
(GFOD for short.)
Bandidos:
We are the people that our parents warned us about
Mongols:
Respect Few - Fear None
Pagans, maybe?
Your brother ain't always right, but he's always your
brother
and
Snitches are a dying breed
Rockers (English bikers): N.C.N.R. (No C#nt, No Ride) I guess that's the British version of
Grass, Ass or Gas - Nobody Rides for Free
.
I like the bikers who oppose helmet laws and wear "Let Those who Ride Decide" t-shirts. Those in need of
organs thank them
!