Saturday, May 21, 2005
How to Disappear Completely and Never Pay your Library Fine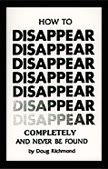 This might surprise you, but all ten of our copies of
How to Disappear Completely and Never by Found
were checked out years ago and never returned to the library. If our system doesn't own a particular book, or all the copies are missing, we offer a service called interlibrary loan where we will request the book from another system for the patron. We eventually had to stop interlibrary loaning this title for people, because those copies would never come back either, and this system would always have to eat the cost.
Books on another topic that we have trouble keeping in our collection?
Survivalism
. One patron checked out almost every title on survivalism we had because he thought society was on the brink of collapse. When the world didn't end on schedule, he decided that he needed his library privileges reinstated. Library fines and replacement charges were the last thing on his mind, so he had been careless with the books and lost them in the wilderness area where he had bunkered down to await the End Times. The replacement fines were over $300. Since he didn't have any money, he wanted to know if he could work in the interlibrary loan department to pay off the fines. While he was presenting his offer he smelled like he had just wandered back from the wilderness and hadn't showered the entire time he was out there. The librarian informed him we didn't have any sort of program like that and he would have to find the books or pay to replace them.