Thursday, March 13, 2008
Beautiful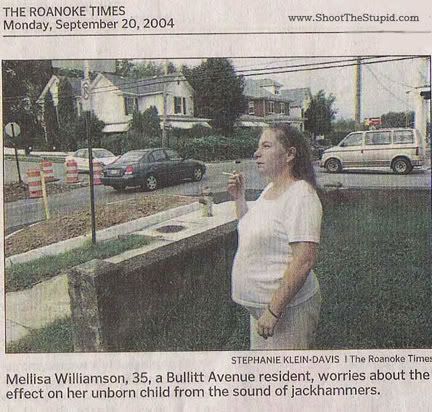 During my last hour on the desk some workmen were jackhammering stonework that had become a tripping hazard not 20 feet away. The noise was deafening and made meaningful reference work or even conversation impossible. As frustrating and nerve rattling as the conditions were,
I was reminded of my all time favorite Snopes entry
.
Fun fact:
More than a quarter of pregnant West Virginians smoke
! You stay classy, West Virginia.
Supposedly babies in utero will begin to squirm and kick when mothers even THINK about lighting up.
Comments:
The older editions of "What to Expect When You're Expecting" actually encouraged smoking mothers to
keep smoking
on the grounds that the nicotine withdrawal would harm the unborn fetus.
Post a Comment