Thursday, February 22, 2007
Miss Lonelyhearts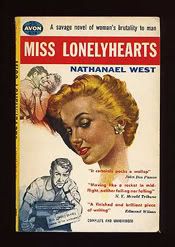 I apologize for the lack of updates but I have been handling the bulk of the email and IM reference and it's been much more physically and emotionally draining than I could have ever anticipated. This electronic reference seems to reach a whole new…class of patrons and sometimes the magnitude of their problems, desperation and witlessness fills with me with this sort of despairing wonder. They're just so lost. I'm certainly not going to let their questions get to me until they destroy me like Nathanael West's
Miss Lonelyhearts
, but they certainly have sapped my vitality and creative energy while I've been shoring up and fortifying my boundaries.
Anyway, here are some choice samples. Details have been changed to protect the patron, and I have also have made an attempt to clean up the spelling and grammar for your sanity as well as mine.
Patron:
Patron: :
i got this girl pregnant and today her other baby's daddy gets out of jail and is just crazy. If he beat her up so she lost the baby would I be able to press charges? Even if she didn't want to? Like if he kicked her or threw her down the stairs or something?
These two just seemed like shit-smeared pungi stick lined traps set by extremists. I wouldn't touch them with a ten foot pole and instead directed them to Planned Parenthood.
Patron:
i live in XXXXX county people tell me an abortion can be done within 3 months, others say up to 5 months. i need to find a place that will do abortion at 7 months
Patron:
My daughter is 16 and I want her to have an abortion but she won't. Can I force her?
Medical Emergencies:
Patron:
Hello. My father-in-law accidentally ate all of our dog's Heartguard flea and heart worm medication. Is it poisonous? It says keep out of reach of children.
Librarian: GET OFF IM AND CALL POISON CONTROL IMMEDIATELY 1-800-222-1222
The "All in the Family" or "My Bitch ex-wife" category. Oftentimes these are written in ALLCAPS. These are always referred to legal aid.
Patron:
CAN A PERSON WITHHOLD VISITATION EVEN THOUGH THEY HAVE A COURT ORDER? THE LAST TIME I TRIED TO PICK UP THE KIDS THEY WOULDN'T LET ME IN FROM THE PORCH. SHE HAS A RESTRAINING ORDER AGAINST ME BUT THE SHERIFF'S OFFICE IS REAL CORRUPT HERE
Patron:
How do I enforce visitation when the other party won't open the door even for the sheriff?
Patron:
I have been paying child support for 15 years for a child that is not mine never signed birth certifi cate, even though I was married. Is there a law that states if you are not the biological father and can prove it do you still have to pay and can I get refunded.
Patron:
A temporary Restraining Order was granted against me. However,a permanent order was not granted. How can I get this erased. My employer requires background checks and I don't want this to come up.
Patron:
Can I appeal a judges order to change child custody orders if I feel I was misunderstood and my ex wife lied?
In any case, I used to think the grotesque characters of Flannery O'Connor and Nathanial West were a lot funnier than I do now that I'm dealing with them. But I do have to say that I am still in awe at the brilliance of West naming
Miss Lonelyheart's
cynical, tormenting boss, Shrike. Shrike, who sadistically revels in disillusioning and destroying any religious or romantic notions Miss Lonelyhearts may express, shares a name with a carnivorous bird that impales its prey on thorns. The
shrike
, also known as the butcher bird, uses the thorn as leverage to tear its prey apart as well as handy storage for the little corpse. Mother Nature is one strange bitch.
Comments:
People are much more apt to be completely forthright with the level of anonymity that email, and IM provide. These people have serious problems, and might otherwise feel too self-conscious to address them. You're helping. Keep up the good work!
Post a Comment