Saturday, March 04, 2006
Piggy, Piggy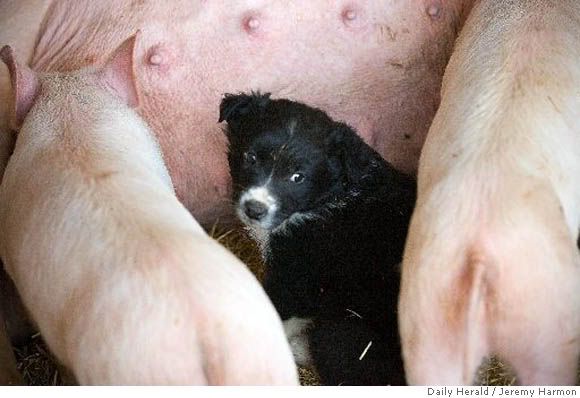 "Greg and Nancy Balzly of Benjamin, Utah, couldn't figure out how Bo, an 8 1/2 week-old border collie, and his brother were getting fat when they refused to eat the dog food put out for them. Mystery solved when the couple found Bo lunching with Bertha the sow's piglets on Jan. 24."
Comments:
Absolutely yuck. My 65-year Korean aunt insists that she is able to nurse her grandkids because she's still putting out milk. And she's tried on numerous occasions. She's insane anyway, so this is just another one of her oddities. For some reason, this picture reminds me of her. . .
I must disagree with Anne. This is absolutely hysterical. A wee little border collie gettin' all plump n' stuff on pig's milk. Toooooo cute--and that look, the "i've been caught red-handed" puppy look--gotta love it. What I want to know is where is that puppy's mama? She should be nursing the little thing.
Post a Comment