Tuesday, October 18, 2005
Naughty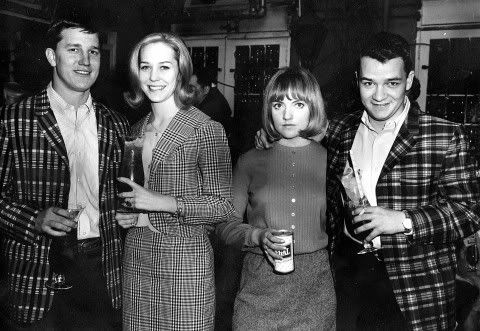 Children adore stories of their parents' youthful escapades and misbehavior. I discovered this picture of my mother and her friend Brenda, the statuesque blonde, in a
Pat O'brien's
photojacket. When my mother was in high school she had run off and taken the train to New Orleans to stay with her sister, who was attending Sophie Newcomb, the women's college of Tulane. She had lied to her mother about her whereabouts but, as so often happens, her deception was uncovered. My grandmother called my aunt sobbing. My aunt had never seen nor heard her mother, a great Southern lady, even cry before.
"This...is...the...meanest...thing...you...girls...have...EVUH...done to me!"
The boys in matching madras jackets have not been identified. My aunt suspects that they were just some blind dates that she set them up with. My mom doesn't look too thrilled with hers.
Comments:
I had do anonymous, cause ive only jsut started to form a cyber identity, but ya must know this is Gregson and you foxy librarians, you can hit me back at tuna_mcgregor@yahoo.com. I love the pic, what a trip, shes so young and vibrant, and I agree she sure is unhappy with her date, but who can blame her this brotha does not know how to play it kool..
What a fun memory to find (well, not for your grandmother at the time, of course). Your mom looks very underwhelmed indeed.
Post a Comment