Tuesday, May 11, 2004
Punky Bear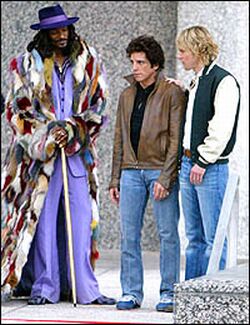 In addition to all of his other faults,
Punky
, is a tattletale. You would think that having had so many negative encounters with police (no matter how well deserved) would have Punky eschew involvement with the 'the man' at all costs. Punky's pettily vindictive nature, however, overrides any fear or distrust of the police and he delights in snitching out his associates, friends, and even boyfriends. I think he fancies himself the Huggy Bear, the stylish pimp informant of Starsky and Hutch, of this neighborhood. If so, he better get working on building his stable of bitches, because all he has now is
Loretta
, and she doesn't bother to charge.
The beat cop told me that yesterday Punky waved him down and pointed at Ray, his boyfriend, who was huddled in a group with three other vagrants about 20 yards from him. Admittedly, they were probably up to no good, but I still think that was awfully childish and malicious of him to fink on his boyfriend. I'm not sure what caused Punky's fit of vindictive pique because you can never really tell with him, but I suspect that he was trying to punish Ray for a recent lover's quarrel. It turns out that all the men were doing was drinking in public. The beat cop told Punky not to waste his time again like that.